Frittata is an egg-based Italian dish, which is enriched with some additional ingredients like meats, vegetables, cheeses, pasta or other ingredients. Here is a simple frittata recipe, which is composed of sweet potato, cheese and egg.
Ingredients:
Sweet potato – 1 kg
Olive oil – 2 tbsp.
Onion (chopped) – 1
Garlic clove (crushed) – 1
Creamy feta cheese (cut into 1.5cm cubes) – 200g
Fresh rosemary (chopped) – 1 tbsp.
Freshly ground black pepper – to taste
Eggs (lightly beaten) – 8
Instructions:
Preheat the oven to 200° C.
Rinse sweet potatoes and cut them into 2 to 3cm pieces. Spread on a baking tray and add 1.5 tbsp of olive oil and toss. Place it into the preheated oven and bake for about 40 minutes, turning once.
Remove potatoes from the oven and set aside to cool.
Place a medium non-stick frying pan over medium heat and heat the remaining olive oil. Mix onion and stir fry for 4 minutes or until light brown. Add crushed garlic and cook for 1 more minute. Set aside.
In a medium mixing bowl, add sweet potato, feta cheese, chopped rosemary and onion mixture and combine well. Season them with black pepper.
Spread this mixture over the base of frying pan. Pour lightly beaten eggs into the pan and spread evenly. Cook the mixture over medium-low heat for about 8 to 10 minutes or until set.
Heat a grill to medium and grill the mixture for about 5 minutes. Remove the pan from the grill and set aside.
Transfer the frittata on a large serving plate. Cut into wedges and serve.
You can use vegetables like broccoli or red peppers instead of sweet potato. You may also add ham or crispy bacon, which will make it tastier.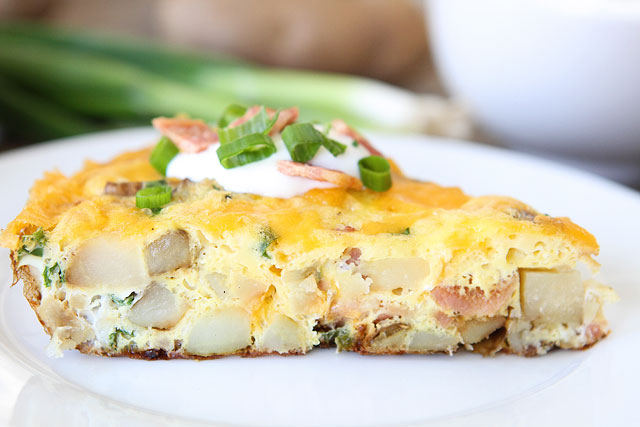 You May Also Read –
Related Searches
spanish potato frittata, potato frittata recipe baked, potato frittata recipe jamie oliver